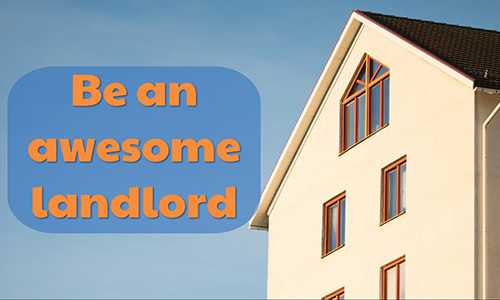 Landlording is not for the faint of heart and if you are planning to take this path, you must know, a lot of strings are attached to it. If you are seriously considering it or you are currently a landlord who once to be better at it, here are 9 do's to becoming an awesome landlord.
Do take your landlording seriously. Let's make it clear. This IS a business. You are growing and protecting a real estate investment. You're entrusting a property to tenants and carefully watching and making sure that these tenants are taking care of this investment. If you don't think that's something serious then landlording isn't for you.

If you want to be a landlord, you must be willing to devote time, effort and money in ensuring the property will last and remain profitable for a long time. This is a business, not a hobby. You have to consistently think of ways to make the property more profitable while making sure that your customers (aka tenants) are well taken care of. You have to invest in the improvement of your property and make every effort to make your investment marketable.
Be mindful of the law. Keep in mind that with any business, you have to adhere to certain laws and regulations. The same applies to renting out properties. There are federal, state and local laws that apply to landlording and tenancy. Make sure you are well aware of all these. Start with the basic: Fair Housing Laws. To avoid fines and jail time, don't discriminate against any of the protected classes (race, color, religion, sex, national origin, familial status, disability, and other locally protected classes).
Do market your property wisely to find quality tenants. Quality tenants are like diamonds: hard to find but once you do, it makes good money. More than ever, it's easier to market properties these days. You have a long list of options when it comes to marketing your property. Whether it's traditional media like newspaper and TV or new media like Facebook and Google advertising, marketing your property is not a problem. If you want quality tenants, you have to go out there and advertise your property.
Do screen potential tenants. Once you've attracted potential tenants, the tricky part is identifying the good and the bad. Screening solves this problem. Don't just rely on instinct; you have to ask questions. Run a thorough screening and check for criminal records, credit history, rental history and income stability. Call previous landlords and find out if there's a history of delayed payments and unruly behaviour. Call employers just to find out if they are regular employees or if they have the capacity to maintain a your rental property.

The last thing you want is a tenant who is overbearing and doesn't pay rent so make sure you go through a screening and application process.
Do sign a comprehensive lease agreement. Lease agreements should be state-specific and thorough, carefully spelling out the duties and responsibilities of the tenant and the landlord. Make sure your lease covers all bases. If you're unsure on how to do this, you can always consult with lawyers or property management experts. They will be able to help you craft a lease agreement that protects both you and your tenant.
Do train your tenants. No 2 tenants are the same, some will take the time to read and keep in mind the details of the lease agreement while most will sign it and forget more than half of the agreement's content. Train them to follow deadlines, requirements and office hours. If they make an non-emergency call beyond the specific office hours you've set, make sure to remind them and not answer the phone next time. Be strict on your payment deadlines to teach them to prioritize payment.
Do communicate well. A smooth landlord-tenant relationship is based on good communication so make sure you're communicating well with your tenants. For tenants with plenty of requests and questions, make sure you address their concerns properly. Be clear with your requests and instructions to make sure you don't get into any miscommunication.
Do organize everything. Being organized will help you achieve greater freedom, stay legal, and increase the profitability of your rentals. Organize records and other data to help you monitor everything properly. Creating a system for bookkeeping will help you through tax season if you do it properly.
Do solve problems carefully and effectively. No matter how well you train your tenants, you will have problems. From fights among neighbors to repairs and complaints, make sure you address them the best way possible. When dealing with difficult tenants, make sure you stay calm and reasonable.
There you have it. Landlording can be difficult but with dedication, hardwork and patience, renting out properties can turn out to be the best decision you've made .Still overwhelmed? Send us an email and we might be able to help you.